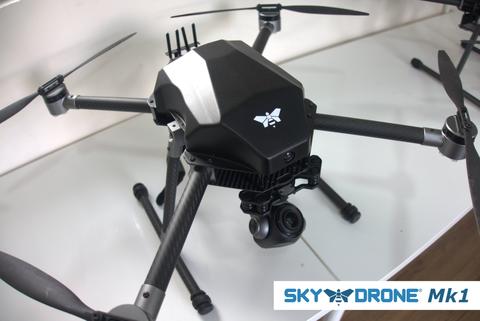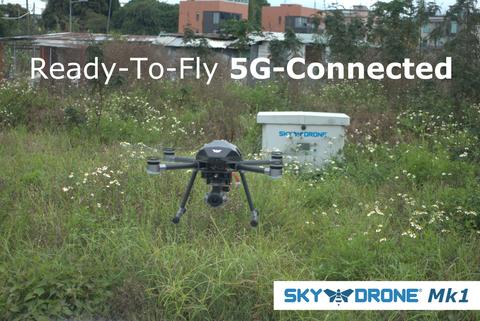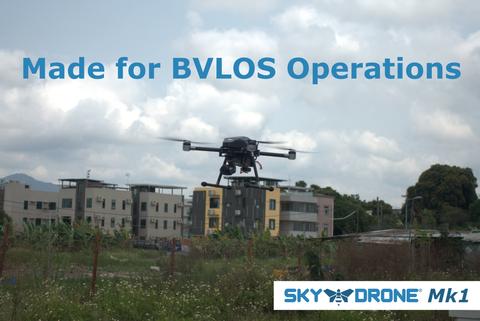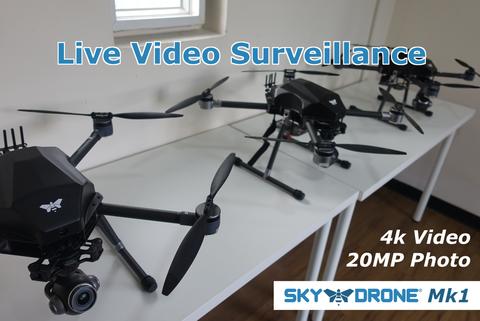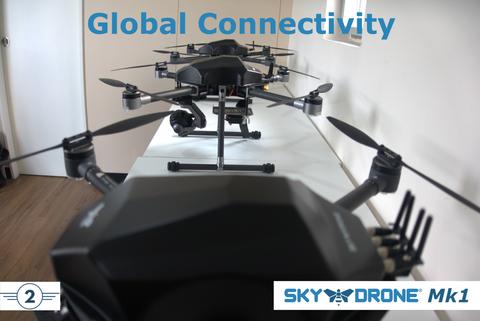 SkyDrone
Sky Drone Mk1
READY-TO-FLY 4G/5G CONNECTED DRONE
Sky Drone Mk1 is the first Ready-to-Fly (RTF) drone that is exclusively 4G/5G connected. The drone is being controlled via a ground control station like Mission Planner or QGroundControl.
MADE FOR BVLOS
Sky Drone Mk1 has been built for true BVLOS flight operations. No traditional radio controller is needed for takeoff, landing and in-flight control. All drone commands are sent via 4G/5G connection from the ground control station to the drone and vice versa.
DRONE SPECIFICATION
Classification:

EU UAS Class C2

Endurance:

45 min (with standard camera payload)

Dimensions:

600 mm (diagonal wheelbase)

Weight:

2.4 kg (with battery, no payload)

Max Take-Off Mass (MTOM):

3.4 kg

Max Speed:

80 km/h (Fast Mode)
45 km/h (Position Mode)

Max Wind Resistance:

15 m/s

Max Mission Ceiling:

Up to 5000 meters (16400 feet)

Hovering Accuracy (P-mode with GPS):

±0.5 m (GPS enabled)
±0.1 m (RTK enabled)

RTK Positioning Accuracy:

5 cm+1 ppm (Horizontal)
5 cm + 1 ppm (Vertical)

Battery:

12Ah, 26.1V LiPo

Operating Temperature:

-10°C to 50°C

Communication Link:

4G / 5G
FEATURE HIGHLIGHTS
Takeoff, fly and in-flight control via ground control station
Live-video (FullHD) transmission in real-time
Remote photo taking trigger
Default high-res 4k / 20MP camera 
Mission planning through ground control station
Emergency intervention via ground control station
Connection loss scenarios (hover, RTH)
High precision positioning via Real Time Kinematics (RTK)
Live video broadcast (via 3rd party software like OBS)
Multivendor payload options

FLARM traffic awareness and collision avoidance (optional)
Additional payload options (e.g. payload release system)
USE CASE SCENARIOS
Security Surveillance

Infrastructure Monitoring
Aerial Surveillance and Mapping
SAR Search & Rescue
Law Enforcement
Broadcast video 
FLIGHT CONTROLLER AND SOFTWARE

UAV / Drone
Sky Drone Mk1
Flight Controller:

PX4 FMUv5 compatible

Command & Control Protocols:

MAVLink Dronecode Standard
mavlink.io dronecode.org


Groundstation Software
Sky Drone FPV Client Software (included)
System:

Minimum: Intel i5, 4 GB RAM


Recommended: Intel i7, 8 GB RAM, dedicated graphics card.

Operating System:

Windows 7/8/10
Linux: Ubuntu 14.04 or newer
MacOS (soon)
Android (soon)
iOS (soon)

Command & Control Groundstation:

Sky Drone Groundstation provides a TCP interface, which is compatible with:
CAMERA PAYLOAD 
Sky Drone Mk1 is compatible with a variety of payloads. This includes the Yuneec E10TX, E10TvX, E30ZX and E90X. Sky Drone Mk1 ships by default with the camera payload Yuneec E90x with the below stated specifications.
CAMERA PAYLOAD SPECIFICATION
| | |
| --- | --- |
| Resolution Still: | 20 Megapixel |
| Resolution Video: | 4k at 60fps |
| Gimbal: | 3 axis gimbal |
| Remote Control: | Gimbal control (all axis), trigger control |
| Storage: | microSD card slot for onboard storage |
| Vendor & Model: | Yuneec E90x |
SECURITY ENCRYPTION
Sky Drone Mk1 is end-to-end encrypted using AES256 encryption - a FIPS 197 approved cryptographic algorithm. Communication between the drone and ground control station is secured with government-grade encryption including command & control commands, telemetry and video imagery data. As such  Datagram Transport Layer Security (DTLS) and Secure Real-Time Protocol (SRTP) both use AES256.
4G/5G CONNECTION SPECIFICATION
BVLOS Transmission Range:

Unlimited

In any area with mobile network coverage, data and video transmission is available; incl. international roaming areas.

Video Transmission Resolution:

Full HD (up to 1080p 30fps)

Antenna:

dual external antennas included

Typical Glass-to-Glass Latency:

<150ms

Typical Data Consumption on 4G/LTE/5G:

10 minutes of streaming consumes:
Full HD at 6mbit/s: 450MB
HD at 2mbit/s: 150MB
Low quality at 50kbit/s: <4MB

Supported 5G NR:

Category: 5G NR Sub-6

Frequency Bands:
n1, n2, n3, n5, n7, n8, n12, n20, n25, n28, n38, n40, n41, n48, n66, n71, n77, n78, n79

4G fallback supported

Supported 4G / LTE:

Category: Cat-20

B1, B2, B3, B4, B5, B7, B8, B12, B13, B14, B18, B19, B20, B21, B25, B26, B28, B29, B30, B32, B34, B38, B39, B40, B41, B42, B43, B46, B48, B66, B71

Data Speeds:

Peak Download Rate: 4.5 Gbps
Peak Upload Rate: 660Mbps

Private LTE Networks:

3.5GHz local private networks (CBRS band)
Certified by the FCC for CBRS private networks to provide reliability, security, flexibility, and cost savings

Approvals:

Planned Carrier: AT&T (FirstNet), docomo, LGU+, Telstra

Regulatory: FCC, GCF, KC, PTCRB, EU RED, JATE/Telec
 For more information on data/video communication see How-It-Works.
SIM Card and Mobile Carrier Requirement
For Sky Drone Mk1 to be able to communicate with the ground control station, the customer needs to obtain a data-enabled SIM card from his/her mobile network carrier. As stated above, Sky Drone Mk1 supports a variety of 4G and 5G frequency bands, which are used across the world in all countries. Customers are still recommended to double-check with their mobile network carrier the frequency support in the areas Sky Drone Mk1 is planned to be deployed at.
In short: All the customer needs besides the Sky Drone Mk1, is a data-enabled SIM card.
Price Guarantee.........